Brian Bradford: Opening gateways to the future
As a student in computer engineering at Iowa State University, senior Brian Bradford has always dreamed of having a future career with huge science organizations and changing the world. Now, his future may be exactly that, thanks to hard work, motivation and a dash of luck.
A little over a year ago, Bradford spent a semester completing a co-op with Vermeer. Bradford didn't know it yet, but this co-op was a beginning gateway into his career.
"I had a friend at Vermeer and his boss was a very smart guy, so I approached [his boss] and asked if he would want to grab coffee, and that turned into a weekly thing," Bradford said. "He kind of turned into my mentor."
While Bradford was on the search for additional internships, his new mentor referred him to a colleague at UC Berkeley's Space Sciences Laboratory, a prestigious lab known for its research and achievements.
In Bradford's interview with UC Berkeley, he talked to the interviewer for roughly three hours, and they immediately clicked. Shortly after, he was accepted into the lab as an intern for CASPER, the Collaboration for Astronomy Signal Processing and Electronics Research.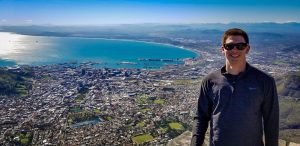 "CASPER is a collaboration where a couple hundred scientists and engineers around the world build radio telescopes
and share ideas, hardware and different things," Bradford said. "Astrophysicists and astronomers want to deploy instruments as fast as they can, so I helped format abstract ways for a lot of the computer and electrical engineering things so the astrophysicists and astronomers don't need to get into that."
While Bradford interned with CASPER, he knew how prestigious the organization was, so he did all he could to stand out.
"I wanted to show them I can work hard and get a lot of stuff done," Bradford said.
Bradford's hard work paid off. Scientists and managers at UC Berkeley noticed his work ethic and invited him to join them on a three-week trip to South Africa. Bradford joined the team, and in South Africa he helped support hardware for astronomers and networked with various people.
"Because of CASPER, I have connected with a lot of people from around the world," Bradford said.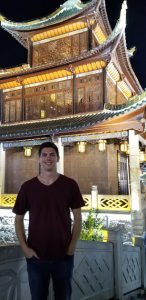 CASPER is now looking for many more undergrads to join their team.
CASPER also led Bradford to a conference in China, where he was the only undergrad attending — and he even presented at the conference. Bradford presented a talk called, "Can an undergraduate student make a difference in CASPER?" promoting the collaboration to consider hiring more undergraduates like him.
Bradford's exponentially positive relationship with UC Berkeley and CASPER has inspired him to help other students reach their goals like he is. Last spring, Bradford created a club at Iowa State called CASPER ISU — a club giving the Department of Electrical and Computer Engineering students the chance to experience and test methods they may have learned in the classroom.
Bradford says anyone can join CASPER ISU. Students can start by emailing him at bjbford@iastate.edu if they are interested.
"CASPER ISU is a good opportunity for students to immediately and directly apply the skills they learn in the classroom," Bradford said. "I want to help get more students involved. And everything that CASPER ISU does relates to computer and electrical engineering in one way or another," Bradford said.
Next for Bradford is an internship with NASA Jet Propulsion Laboratory.
"NASA has always been my dream job, if not my top one or two. I just met the right people and proved myself to them," Bradford said.
Bradford's advice to other students pursuing internships or jobs right now is to simply work as hard as you can and grasp every possible opportunity you can. With a strong work ethic and an open mind, nearly anything is possible.
Link to Official Article: https://news.engineering.iastate.edu/2019/01/16/brian-bradford-opening-gateways-to-the-future/